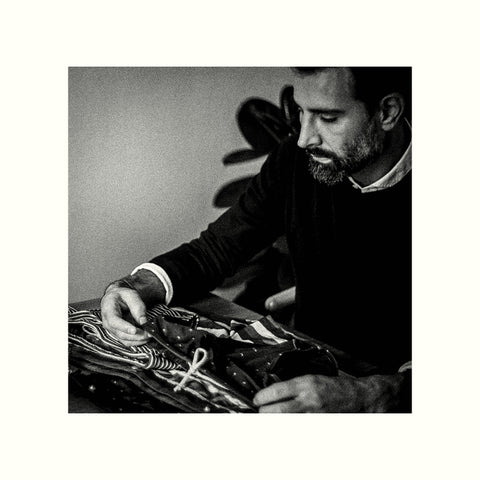 Ángel Pérez
Professional stylist
Angel is a professional stylist. He has grown up surrounded by seams and defines himself as a true all-rounder within the complex and fascinating field of fashion. He works with total fluency in an element he knows very well. A reward after a considerable investment of time and energy in training in many disciplines.
Thanks to his specialization Angel lives the fashion projects in a transversal way. A fact that is fed by his experience as a brand image and model for different firms.
He is currently immersed in professional projects related to both cosmetics and men's fashion. Taking into account his deep knowledge of the sector we wanted him to be one of the first to know our new collection.
He confesses to being a traveller to and from, who is passionate about discovering new places but who likes to have the peace of mind of knowing that the best place is the one he finds when he returns, his beloved city Valencia. A place he would choose as a residence time and time again.
He enjoys swimming both in the unfathomable waters of the island of Formentera and in the most remote corners of the Cabo de Gata Natural Park. Angel is passionate about feeling free in these places. When asked what his favourite garment for sliding under water is, he states without hesitation that it is our Mïau shorts.
Diving in Angel we asked him which is his favorite place to enjoy a sun bath and he recommended us the exotic waters of the Mermaid's Reef. He never forgets his sunglasses, nor does he miss a sarong in a wicker basket. Both pieces are key to what he considers a complete and pleasant experience in the sea.
His devotion to our shorts is complete, a garment that hides many peculiarities and is also very wearable. He points out that in our first collection we already outlined a piece for each personality. He tells us which garment he would choose as a gift and to whom, and he reveals that it would be his partner. He would give them our Smartshort Cats Black.
As far as his tastes are concerned, he recommends watching the film "Blinded by the Sun" starring Tilda Swinton. His favorite place to get away and get lost? Florence, a place where he have always lived the most original experiences.
MaullidosMeows of gratitude, Angel.
Welcome to the distinguished world of Mïau.